The Missing Ink
When a girl makes an appointment at The Painted Lady to get a devotion tattoo with the name of her fiance in a heart, tattooist Brett Kavanaugh takes the job, but the girl never shows. The next thing Brett knows, the police are looking for her mysterious client…and the name the woman wanted on the tattoo is not the name of her fiance. An alliance with an unlikely partner leads Brett to a dead body, a suave Englishman, and an Elvis karaoke bar. And who is the tattooed stranger stalking her? Brett draws the lines between the clues, unwittingly putting herself in danger. But she intends to see justice done, since death, like a tattoo, is permanent.

Pretty in Ink
After tattooist Brett Kavanaugh and her staff at The Painted Lady ink Sin City's newest drag queen stars, they're invited to opening night at the Strip's glamorous Nylons and Tattoos show. An evening of glitter and dancing ends in disaster when a stranger with a queen of hearts tattoo fells Britney Brassieres with a wayward champagne cork. Even though Britney recovers, she mysteriously dies soon after, and then another drag queen is found poisoned. Someone's targeting Vegas's fabulous femmes, and sharp-as-as-needle Brett must crack the case before the show's over for good.
Driven to Ink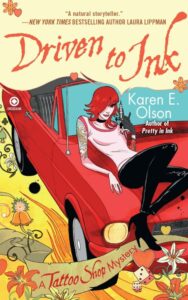 Las Vegas is a rocking place where impersonators of the legendary Rat Pack — Frank Sinatra, Dean Martin, and Sammy Davis Jr. — are alive and well and performing nightly at clubs all over town. Except they're not all. Alive, that is. When tattooist Brett Kavanaugh lends her car to Sylvia Coleman and Bernie Applebaum for a drive-through wedding, she's not expecting to get it back with a dead body in the trunk — much less one who looks like Dean Martin and sporting a clip cord from a tattoo machine around his neck. As for the newlyweds, they vanish before they can start their honeymoon, so Brett and Sylvia's son Jeff go undercover as bride and groom to sniff out the rat who seems to be targeting the impersonators. Whatever's going on, it's not amore…

Ink Flamingos
Dee Carmichael, lead singer of the pop sensation The Flamingos, has been one of Brett Kavanaugh's most dedicated customers at her tattoo shop, The Painted Lady. When Dee is discovered dead surrounded by ink pots and needles, Brett is branded a suspect. It seems that someone is impersonating Brett. And if she doesn't act fast, the killer is sure to put the dye in dying once again.