Welcome
"The second in this electrifying series is an addictive page-turner with a stunner of a finale." — Kirkus Reviews on SHADOWED
I am thrilled that SHADOWED, the second in the HIDDEN series, is now available in the UK!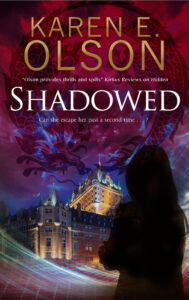 I have written the A
nnie Seymour and Tattoo Shop mysteries, but the HIDDEN series is a departure for me. They are suspense thrillers about a woman computer hacker on the run.
SHADOWED will be released in the US on June 1. The ebook will be available when the hardcover is released.
The trade paperback of HIDDEN will be available on July 1.
I am working on the third in the series, which is titled BETRAYED.
"Effective descriptive writing, coupled with the reflective protagonist, give this thriller a contemplative feel while not sacrificing suspense." — Booklist on HIDDEN